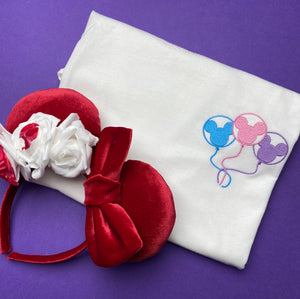 This Wish is Customisable so you are able to choose which 3 colours you would like your balloons to be. Please make sure you add the colours you would in the comments.
If you are unsure as to what colours are available please don't hesitate to get in contact.
Wish Upon Threads design and create all Wishes. Therefore, due to each design being created to order please be aware that the image may slightly differ from image shown, however the size of the embroidered image remains the same.
Please remember that we cannot be held responsible for any item ordered in the wrong size so be sure to check your sizes carefully before placing your order. Size Guide can be found at the bottom of the page or by clicking here.

If you have any questions regarding sizes please don't hesitate to contact us via email at contact@wishuponthreads.com or via our social media channels.